Highlights
---
+ ATSC Digital TV tuner for your Mac
+ Watch & record your favorite digital TV on your Mac
+ Support ATSC/Clear QAM
+ Support with award-winning EyeTV lite software for Mac
Watch, record, and enjoy TV on your PC with the brand new eyeytv U6 Lite. Superbly engineered and versatile, the eyeytv U6 Lite delivers free-to-view digital television to your PC via aerial ATSC/ Clear QAM.
Technical Specifications
Standard: ATSC HEVC (in Germany only)
Frequency range: 48-860MHz (VHF and UHF)
Modulations: QPSK, 16 QAM, 64 QAM, 128 QAM, 256 QAM
Bandwidths: 6 MHz, 7 MHz, 8 MHz
Input: Coaxial connector (IEC)
Dimension and Weight
Dimensions: 68 × 18 x 14 mm
Weight: 12 g
Package Contents
Package Contents: 1 x EyeTV U6 Lite, 1 X RF Adapter, 1 X USB cable, 1 X Software download guide (EyeTV 3)
Connect the antenna - done!
Enjoy Live-TV immediately thanks to quick and easy installation. Connect the TV Tuner with antenna to your PC in order receive a great variety of free-to-view TV programs that are broadcast over-the-air.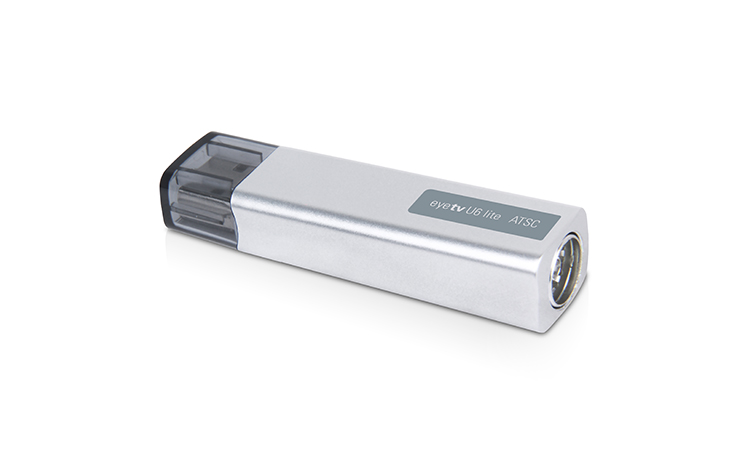 Superb Quality Television
eyeytv U6 Lite records digital HD TV in one quality setting, lossless. The digital stream is recorded unaltered for full quality digital content as encoded by the broadcaster. eyeytv U6 Lite also supports multilingual programming and Dolby® Digital sound.
TV Software for your Windows
You can use eyeytv U6 Lite with a PC exclusively. eyeytv U6 Lite is compatible with Windows 10 or later and includes the eyetv 4 windows Software, which supports many of the same features as eyetv 3.
Download: eyetv 4 windows for eyeytv U6 Lite
In fact, the decoding of the high-resolution ATSC HD transmission signal and the synchronization with the sound signal stimulate the interplay of the receiver and the computer more than we and many users have already successfully tested in the pilot operations. Only if the components are coordinated and the resources are distributed effectively, the results can meet all expectations. Otherwise, there will be stuttering and shifts in the reproduction of image and sound.
Very important: In order to create the prerequisites for interference-free reception of ATSC HD HEVC/H.265 (1080p/50), all system requirements must be fulfilled.
Important Notes:
In order to receive ATSC HD HEVC/H.265 TV-Support 1080p/50 (Germany),
you have to have an Intel/AMD processor which is better or equal to the Intel Core i5 2,5 GHz,
as well as at least 4 GB of RAM(random access memory) and Windows 10 or later
Encrypted programs are not supported.
ATSC H.264 broadcasted in Austria is not supported.
The availability and amount of program information varies depending on the channel.
Digital terrestrial television is also known as DVB-T, DTT, Freeview in the UK, and TNT in France. DVB-T reception can vary by location, and a rooftop aerial may be required in areas with a weak or obstructed DVB-T signal.